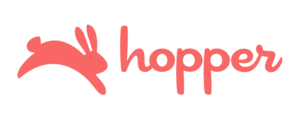 Description
Hopper is a new kind of travel company that uses big data to empower travelers. The Hopper app for iOS and Android analyzes trillions of past and current trips to predict when you should fly and buy. The app notifies you when fares drop so you can book flights at just the right moment. Hopper is among the fastest growing travel apps ever, with over 10 million installs since it was launched in 2015.
We are looking for a VP Finance/ Controller to run our internal accounting department. This position reports directly to the Chief Operating Officer and directs and prioritizes the workload of the finance team. You will have exposure to all levels of the organization, and must be a strategic-minded person who is also able to be very hands-on and extremely focused on the details.

Responsibilities
Create and analyze monthly, quarterly and annual financial statements to be reviewed with management
Budgeting and forecasting
Enterprise resource and investment planning
Develop analytical models and ad-hoc reports
Compile, analyze, interpret, monitor, and report financial and operational metrics
Cash management and treasury
Oversee AP, AR, P&L
Payroll, sales & use, and income tax preparation
Business registrations maintenance
Maintain insurance policies and renewals
Help identify new accounting/ERP/CRM solution and implement
Help document and implement internal controls framework including policies & procedures manuals
Requirements
The ideal candidate will have 7-10 years of financial/accounting leadership, financial analysis and accounting management experience
Big 4 experience and minimum 2 years in a controllership or assistant controllership function preferred
Strong analytical, financial modeling, accounting, problem-solving and organizational skills
Strong accounting research background especially in revenue recognition and software capitalization areas a plus
Must have exceptional Microsoft Excel skills plus other advanced computer and database skills
Exposure to foreign currency consolidations a plus
Must maintain strict confidentiality and be able to adapt to a fast-paced environment that requires multi-tasking, prioritizing and meeting multiple deadlines
Must have BS/BA in Accounting; MBA/MS a plus
CPA/CMA a plus
Benefits
Competitive base salary commensurate with experience, bonus and stock option eligible
Strong benefits package including Medical, Dental, Vision, Disability and Life Insurance, all fully covered.
Dynamic, entrepreneurial team where pushing the limits is every day business
Loft-like, casual work space conveniently located near Kendall/MIT Station
Team lunches, off-site activities, game nights and much more!