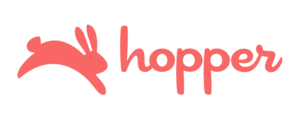 Description
Hopper is a new kind of travel company that uses big data to empower travelers. The Hopper app for iOS and Android analyses trillions of past and current trips to predict when you should fly and buy. The app notifies you when fares drop so you can book flights at just the right moment. Hopper is among the fastest growing travel apps ever, with over 10 million installs since it was launched in 2015.
But this is just the beginning. Learn more.
As an Advanced Booking Agent, you'll work directly with our users, help with their post-ticketing questions, as well as supporting our in-house support and ticketing operations teams. You'll also participate in day-to-day air reservation ticketing operations, and will help guide the building of ticketing solutions as the company continues to grow. This is an exciting opportunity to use your GDS expertise to help us build something completely new in the travel industry. If you are an experienced travel agent who thrives on providing exceptional support, than you're the perfect fit for this role.
In this role, you will:
Assist our users with pre-booking, post-booking, ticketing, and modifying reservations made via the Hopper app via phone, email, chat and social media
Communicate directly and empathetically with high-stakes Hopper users to alleviate time-sensitive booking-related incidents
Anticipate customer needs and exceed their expectations by providing an exceptionally high level of service and support
Monitor queues and operational ticketing processes via multiple global distribution systems (GDSs), non-GDS services, and our internal tools and systems to ensure smooth functioning and successful ticketing on all files
Collaborate extensively with remote and in-house support and ticketing agents to improve processes and overall customer satisfaction
Work closely with our product, development, and operations teams to help inform, shape, and execute bringing the ticketing and support processes entirely in-house
Requirements
A perfect candidate has:
Expert knowledge (2+ years) with a Global Distribution System and Central Reservations Systems, Sabre and Apollo particularly preferred
Confidence using customer relationship management (CRM) software like Zendesk, Help Scout, etc.
Ability to quickly learn new systems and comfortably identify and troubleshoot technical issues
Extensive experience with ticketing, modifying, and canceling airline reservations in accordance with customer needs, airline schedule changes, and carrier restrictions
Capacity to understand and accurately apply fare rules, airline policies, service level agreements, and other requirements
Excellent judgment; ability to ask smart questions and make quick, impactful decisions with regard to each particular situation
Natural empathy and the ability to understand, meet, and exceed customer needs
Exceptional communication skills and ability to adjust tone, formality, and responses as needed
Discretion; the ability to reliably and professionally handle sensitive communications
An adaptable and resilient attitude; must be comfortable with a fast-paced, scrappy, and dynamic startup environment
Native English written and oral proficiency; bilingual proficiency in Spanish, French, or Portuguese is a plus!
Willingness to work a flexible and demanding schedule; We are currently assisting our users from 7AM until midnight and applicants must be available to work both weekdays and weekends.
Benefits
Dynamic, entrepreneurial team where pushing the limits is every day business
Loft-like, casual work space conveniently located near a Metro station
Competitive salary
Health benefits are fully covered by Hopper!
Opportunity for professional growth
Team lunches, off-site activities, game nights and much more!