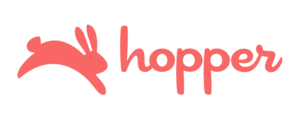 Description
Hopper is a new kind of travel company that uses big data to empower travelers. The Hopper app for iOS and Android analyses trillions of past and current trips to predict when you should fly and buy. The app notifies you when fares drop so you can book flights at just the right moment. Hopper is among the fastest growing travel apps ever, with over 10 million installs since it was launched in 2015.
But this is just the beginning. Learn more.
As a Ticketing Agent at Hopper, you will be the go-to person for any GDS-related inquiries from our in-house team of Travel Support and Advanced Booking Agents. You will also be involved with the day-to-day air reservations ticketing operations and will help guide the building of ticketing solutions across multiple global distribution systems. This is an exciting opportunity to utilize your ticketing and GDS expertise to help us build something completely new in the travel space. If you know almost everything about standard airline policies, aren't scared by Sabre remarks or the words "plating" and "PNR", you're a natural problem solver, and thrive on thinking creatively to help customers achieve a positive experience, you'll be a perfect fit in this role.
In this role, you will:

Monitor multiple queues across five different PCCs in Sabre, Apollo and Farelogix
Process full and partial exchanges as well as refunds (Voluntary, Involuntary, FTC)
Contact users by phone and email for schedule changes
Mentor, assist and coach our Travel Support and Advanced Booking Agents with GDS questions or issues
Reach out to airlines to obtain waiver codes for name corrections, refunds, etc
Work closely with our product, development, and operations teams to help inform, shape, and execute the building and optimization of ticketing and support processes
Occasionally help our users via phone, e-mail or live chat if there is an overflow
Requirements
A perfect candidate has:
3+ years experience at a leisure or corporate travel agency and experience in domestic and international reservations
Expertise Sabre or Apollo GDSs and ability to troubleshoot, escalate, and resolve complicated issues efficiently and effectively. Expertise in both, a huge plus!
Strong Sabre or Apollo knowledge including building, pricing, ticketing and completing complex exchanges
Core competency in air ticket fulfillment and back office settlement procedures
Ability to work within a multi-source environment incorporating multi-GDS, multi-PCC, and multi-PoS
Extreme attention to detail to ensure each and every ticket is handled and actioned appropriately
Sound judgement to prioritize appropriately, make appropriate tradeoffs to speed up productivity, and balance competing, and often changing, priorities
Experience working with Farelogix APIs, Navitaire, auto-ticketing scripts, and custom script building an asset
Knowledge of back-office systems and reconciliation procedures for sales reporting via TRAMS, ARC, and BSP, an asset
Native English written and oral proficiency; bilingual proficiency in Spanish, French, or Portuguese is a plus!
Willingness to work a flexible and demanding schedule as customer and product needs may require. Hopper is currently assisting our users from 7AM until midnight and applicants must be available to work both weekdays and weekends
Benefits
Dynamic, entrepreneurial team where pushing the limits is every day business
Loft-like, casual work space conveniently located near a Metro station
Competitive salary
Health benefits are fully covered by Hopper!
Opportunity for professional growth
Team lunches, off-site activities, game nights and much more!