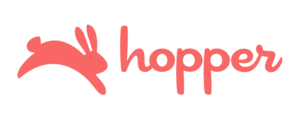 Freelance Production Coordinator
Description
Hopper is a new kind of travel company that uses big data to empower travelers. The Hopper app for iOS and Android analyses trillions of past and current trips to predict when you should fly and buy. The app notifies you when fares drop so you can book flights at just the right moment. Hopper is among the fastest growing travel apps ever, with over 20 million installs since it was launched in 2015.
The Role:
We're looking for a Production Coordinator to join our content team as a monthly freelancer with the option for full-time! You will play a key role in coordinating a wide variety of live action and animated video content that is created specifically for Hopper.
As a Production Coordinator, you will work at the intersection of product, brand, and production to create successful video content. You'll be the point of contact for all content creation going on in your city. Every day you'll be working on projects that will help shape our content strategy. Whether you're coordinating video shoots, communicating with content partners, or maintaining the overall production schedule, your contribution to Hopper's success will be critical. You'll become part of a small, versatile, and highly collaborative team with big ambitions.
Our Content Approach:

Content production at Hopper is fast-paced and iterative. We move quickly to identify content strategy, shoot, test, and execute. We're speedy and scrappy while consistently delivering an elegant and delightful user experience.
In this role, you will:
Take end-to-end ownership of the content production in various markets: scheduling, budgets, crewing, internal review, etc.
Manage multiple photo or video shoots and production streams concurrently, keeping track of deadlines and ensuring all shoots remain on schedule
Book travel, arrange for purchase and delivery of shooting equipment, and coordinate return of equipment after shoots
Ensure local production crew have gear when they need it, ensure completed content is delivered
Collaborate with the Product, Design, and Business Development teams to constantly stay abreast of localized content strategy
Assist with hiring and onboarding freelance photographers and videographers
Prioritize appropriately: Use good judgement to make appropriate tradeoffs to speed up learnings and balance competing, and often changing, priorities
Requirements
A highly qualified candidate has:
At least 2-4 years' experience in relevant content, production, broadcast, or digital media roles
Competence and understanding of creative design and video production processes
Previously worked on content creation, especially for mobile platforms
Passion for being involved in the big picture, while fearlessly diving into the details
On-set experience and is comfortable managing relationships with travel partners
Attention to detail and excellent organizational skills
No ego when it comes to content; the focus is always on getting quickly to the right answer and doing what is right for the customer and the company
Interest and experience in the travel industry and startups is a plus, you should be comfortable working in a close-knit team and fast-paced environment
The ability to flourish with minimal guidance, be proactive, and handle uncertainty, ambiguity, and quickly evolving goals
Sound like a fit? We can't wait to hear from you.