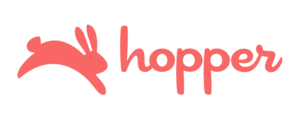 Description
Hopper is a mobile-only company that uses big data to predict and analyze airfare and accommodations. The app provides travelers with the information they need to get the best deals on flights and hotels, and notifies them when prices are at their predicted lowest points.
Since launching in 2015, Hopper has become one of the fastest growing travel apps ever with over 20 million installs. It is the #1 travel app in over 37 countries and ranks as one of the top 10 travel apps in over 95 countries. Our users have watched 45 million trips since launch and are booking $1.5 million worth of travel through the app each day. Hopper has received accolades such as Apple's App Store Best of 2015, the Google Play Award for Standout Startup of 2016, and the Webby Award for Best Travel app.
Hopper was founded in 2007 and has $104 million CAD in funding to date from Caisse de dépôt et placement du Québec (CDPQ), Accomplice, Brightspark, OMERS, BDC IT Venture Fund, and Investissement Québec.
As a Software Engineer – Backend you'll be part of a growing team of Engineers and Product Designers with big ambitions: delivering a delightful and powerful product that empowers travelers. We're always looking for driven, versatile, autonomous yet collaborative engineers to help us build great things. You'll work with a team that's built an industry-leading travel shopping platform and the world's most powerful travel recommendation engine.
At Hopper, you'll help evolve a complex system of distributed micro-services using Scala and Finagle. And your code will interface with large, distributed no-SQL stores with more than a Petabyte of historical data. You'll work with Apache Spark (python and Scala) to analyse trillions of data points and on pipelines ingesting billions of data points daily with Kafka and Spark Streaming.
Requirements
We're looking for engineers of diverse backgrounds, from recent graduates to engineers with years of experience building distributed systems. Our fundamental requirements are a drive to learn and a shared engineering philosophy:

Design and write beautiful code: simple, testable, efficient and maintainable
Learn new languages, technologies and frameworks from one project to the next
Collaborate with others to solve tough technical and product problems

Experience in these areas is a big plus:

Working with a functional language like Scala/Java
Integrating with Travel Industry APIs, especially Booking Engines and Airline-related systems
Working with transactional systems and finite state machines
Implementing RESTful APIs
Building distributed systems
Working with Mesos, Kafka, Spark, Hadoop, HBase, and OpenTSDB
Shipping in a Linux environment, familiarity with server administration and tools
Contributing to open source projects