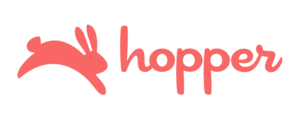 Senior Editor / Data Journalist (Hopper Research)
Description
The Company
Hopper is a new kind of travel company that uses big data to empower travelers. The Hopper app for iOS and Android analyzes trillions of past and current trips to predict when you should fly and buy. The app notifies you when fares drop so you can book flights at just the right moment. Hopper is among the fastest growing travel apps ever, with over 10 million installs since it was launched in 2015.


The Role
We're looking for a senior editor who lives at the intersection of Hopper's communications and data science teams. The senior editor will work closely with our data science team to supercharge the production of content relating to Hopper's unique take on airfare data and market-level trends. Our stories are a mix of data-driven research reports intended for a sophisticated audience of business and travel journalists and more grounded stories intended for the broader travel consumer market. We use these stories to spark interest in Hopper from journalists and consumers alike and to establish ourselves as thought leaders in our space.
The editor's principal duty will be coordinating production of content and working with writers and data-visualization journalists to produce the content. Success will be determined by both quality and quantity of output, but also by the alignment of content production with the strategic needs of Hopper's communications team.
You might be a great fit for our team if you have experience in data journalism and editing and know how to write reader-friendly stories that make the best use of data, but are also very excited about seeing a real impact from your content on the goals of Hopper's communications team.
In this role you will
Coordinate the production of research content with Hopper's data science and communications teams
Contract staff and freelance writers, data journalists and data-visualization journalists for production of high-level content
Prioritize the data requests needed for production of content to align with bandwidth of data science team
Optimize content production with press outreach and user acquisition goals of communications team
Write awesome content that is grounded in serious data but also easy to consume
Requirements
A qualified candidate has:
Familiarity with quantitative journalism and data
Meaningful experience in digital journalism as a writer and editor at recognizable outlets
A great mix of creative and analytical thinking
Interest in the travel industry and startups is a plus; you should be comfortable working in a small team and a fast-paced environment
The ability to flourish with minimal guidance, be proactive and to handle uncertainty, ambiguity and the challenge of quickly evolving goals

Sound like a fit? We can't wait to hear from you.


This position is based out of New York, NY.