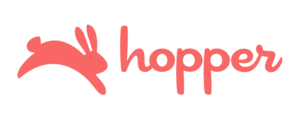 Description
The Company:
Hopper is a new kind of travel company that uses big data to empower travelers. The Hopper app for iOS and Android analyzes trillions of past and current trips to predict when you should fly and buy. The app notifies you when fares drop so you can book flights at just the right moment. Hopper is among the fastest growing travel apps ever, with over 10 million installs since it was launched in 2015.
But this is just the beginning. Learn more.
The Role:
As a Product Engineer, you will work at the intersection of Product development, Engineering, and Data Science to rapidly prototype and iterate on new features. Every day you'll be working on projects that will help decide the success or failure of our company. Whether you're working alongside product and design to conceptualize and define a feature, prototyping new user interfaces, or using real world data to explore the viability and impact of new features, your contribution to Hopper's success will be critical. You'll become a part of a small, versatile and highly collaborative team with big ambitions.
Our Product Development Approach:
Product development at Hopper is fast-paced, iterative and data driven. We move quickly to identify product hypotheses, design, build, test and learn. We're speedy and scrappy while consistently delivering an elegant and delightful user experience. We believe even the hardest product challenges can be solved with a simple and user-centric approach to design.
In this role, you will:
Build and manage short-cycle prototypes to explore and test the impact of experimental features
Frame and conduct complex analyses using large amounts of poorly structured data
Collaborate directly with Product, Design and Data Science to refine our core app experience based on both qualitative and quantitative user feedback and metrics
Requirements
A highly qualified candidate has:
BA/BS in Computer Science, Engineering or other technical field
Experience in HTML, CSS and JavaScript
Experience building server-side applications in Python, Ruby, Scala or other programming languages
Experience in Pandas, R, SAS or other tools appropriate for large scale data preparation and analysis
Mobile app development experience a plus
Adaptable attitude; comfortable with a fast-paced, agile development process
Interest and experience in the travel industry and startups is a plus, you should be comfortable working in a close-knit team and fast-paced environment
The ability to flourish with minimal guidance, be proactive and handle uncertainty, ambiguity and quickly evolving goals
Benefits
Compensation will be competitive including equity in an early stage startup backed by top-tier VCs (Accomplice, Brightspark and OMERS Ventures).