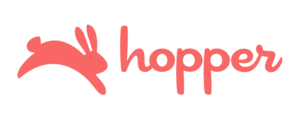 Air Ticketing Specialist (GDS)
Description
Hopper is a mobile travel startup based in Cambridge, MA and Montreal, QC. We combine insightful research on massive data sets with intuitive design to help travelers make better decisions about where to go and when to fly and buy, saving travelers as much as 40% on their flights.
The app has been featured in outlets such as Tech Insider, Mashable, CNET, Fast Company, New York Times, and more. Both Apple and Google have featured Hopper in the App Store & Play Stores as one of the "best new apps", and Hopper was named Google's Standout Startup of 2016.
As a GDS ticketing specialist at Hopper, you will be involved with the day-to-day air reservations ticketing operations and help guide the building of ticketing solutions across multiple global distribution systems. This is an exciting opportunity to utilize your ticketing and GDS expertise to help us build something completely new in the travel space.
Requirements
A highly qualified candidate has:
3+ years experience at a leisure or corporate travel agency, or has recently completed an intensive GDS ticketing training program
Strong Sabre and Apollo knowledge including building, pricing, ticketing and completing complex exchanges
Core competency in air ticket fulfillment and back office settlement procedures
Extreme attention to detail to ensure each and every ticket is handled and actioned appropriately
Expertise in both Sabre and Apollo GDSs and ability to troubleshoot, escalate, and resolve complicated issues efficiently and effectively
Experience with or ability to quickly learn non-GDS ticketing tools such as Farelogix/Sprk and Navitaire
Ability to work within a multi-source environment incorporating multi-GDS, multi-PCC, and multi-PoS
Experience in domestic and international reservations
Knowledge of back-office systems and reconciliation procedures for sales reporting via TRAMS, ARC, and BSP
Experience working with Sabre, Travelport, and Farelogix APIs, auto-ticketing scripts, and custom script building
Sound judgement to prioritize appropriately, make appropriate tradeoffs to speed up productivity and balance competing, and often changing, priorities
Spanish, French, or other language skills are also advantageous